My first experience with Jebao power heads was at the beginning of 2013. I bought a WP40 as a cheap backup pump for my Tunze 6105. I wasn't expecting much based on the price but was pleasantly surprised at the material quality, amount of flow, controller capabilities, and how long it lasted. I have since moved to the Jebao pumps and I'm currently running a SW-15 and PP-15 in my 120 SPS dominant display.
Fish-street.com (the online retailer company where the Jebao originated) just launched a new series of wavemaker pumps called the Coral Box Quiet Pump series.
Full disclosure,
they are offering the pump at no cost to me if I post a review. I have been impressed with their pumps so far, and wanted to see how this one compared to my current Jebao pumps. This will be an honest review as I have nothing to lose. I placed the order today so once I receive it I will tell you my thoughts.
Here are the basics about the pumps according to Fish Street's website.
There are three different pump sizes in this series.

Basic Stats for the Quiet Series Pumps:
Mode
6 Mode
Normal / Sine / Advance Pulse / Nature / Reef / Advance Shift
Advance Pulse
Can Pulse for 2 Pump. One pump Stop, another pump running
Advance Controller
Digital LED Controller. See it clearly operation flow and mode
Accuracy Digital 1 - 99% Setting Output Flow. Custom Self Easy to set
Master / Slave
Mix with up to 8 Pump
Accuracy of Time
Real Time
Motor Pump
No Eletrical Inside, Pump motor is lifetime will not damage
Design
Design in Germany with Coral Box
Comparison of the different model sizes:
| | | | |
| --- | --- | --- | --- |
| | QP-5 | QP-9 | QP-16 |
| Flow | 5000Litres /1300Gallon | 9000Litres / 2340 Gallon | 16000 Litres / 4160 Gallon |
| Watts | 10W | 23W | 40W |
| Size | 8.5 x 6 x 6.5cm | 10.5 x 8 x 7.5cm | 12.5 x 9 x8.5cm |
These pumps come with a controller with 6 different flow modes.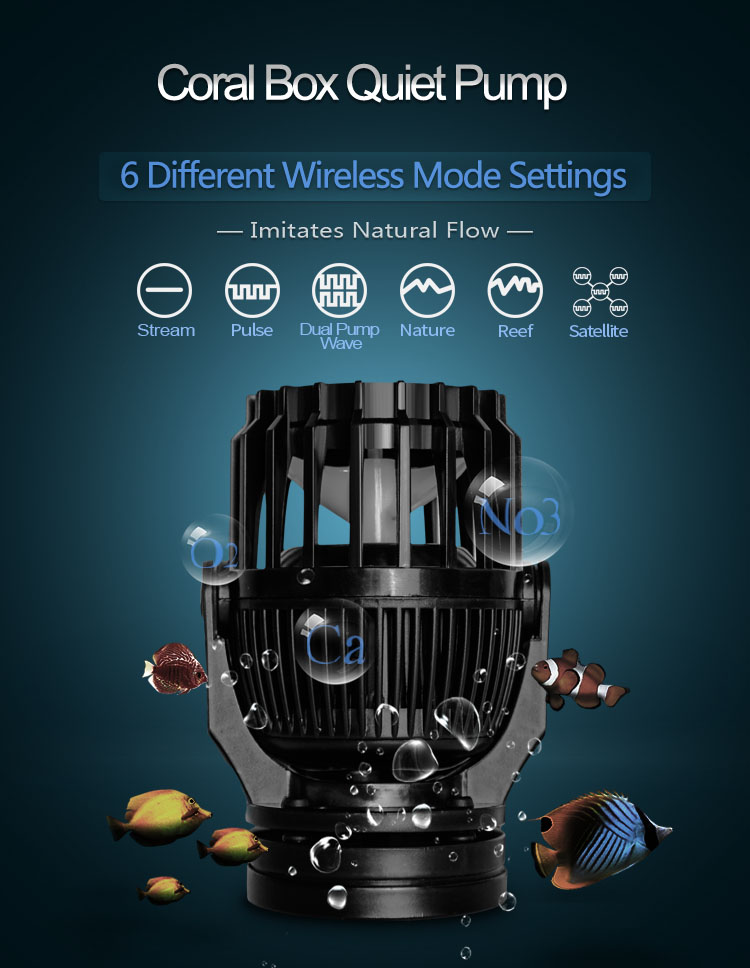 Multiple pumps can also be controlled/synced via wireless connection.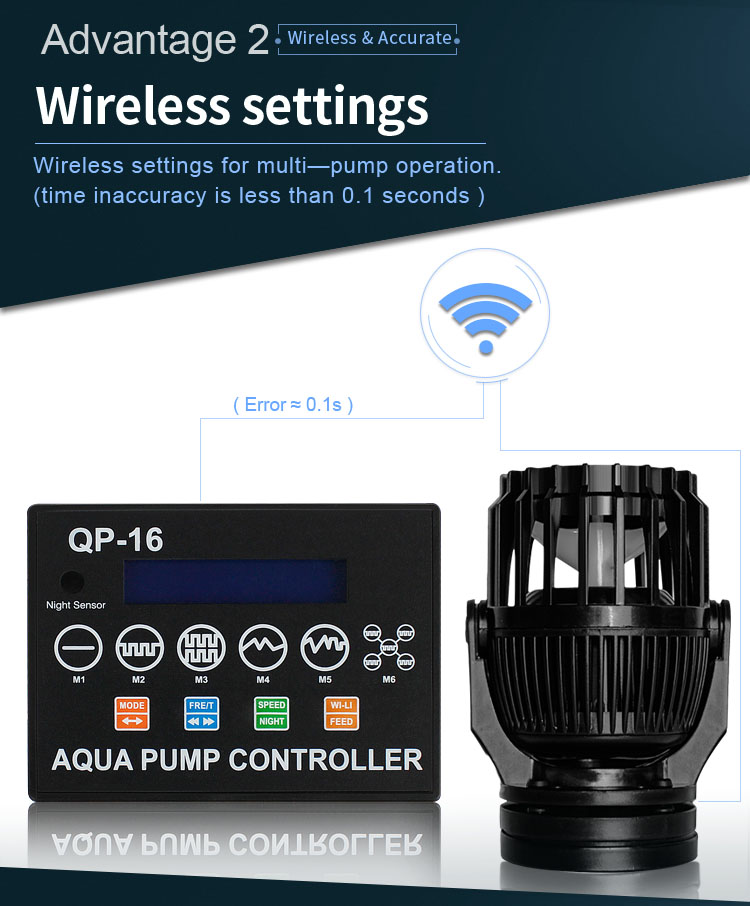 I look forward to receiving this pump and I'm interested to see how this design performs compared to my exiting Jebao pumps. I will be reviewing the QP-16 and will post a video and photos.