Never did a build thread for my first tank but wanted to keep a record this time. After 15 years I moved out of my 200 into a new to me 240. I actually envied this tank when I first saw it and when it first went up for sale the timong wasn't right and I was sure I would miss out. I was happy (for me) that it was still availabe a year later and my wife was willing to let me pull the trigger. My old tank was a starphire glass 200 gal with dimensions of 50x30/31. Pic was taken during tear down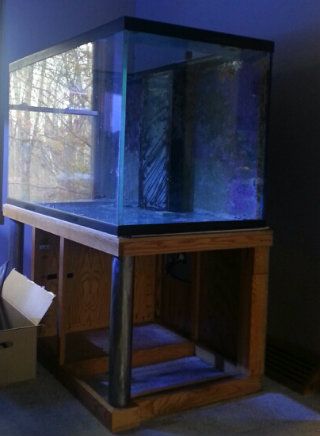 My new tank is a AGE 240 flatback hex tank that's 60x36x26. The bottom is 1 inch pvc starphire glass and acrylic eurobracing. The back is 60" and the front panel is 48" on a steel stand. It has a 4 inlet closed loop through the bottom.
When I got the tank it had the usual coraline algae that needed cleaned. The stand is powder coated but had some areas with rust. I ended up cleaning up the rust and priming and painting it. All in all everything was in great shape.
Thanks for looking I'll post more pics shortly.